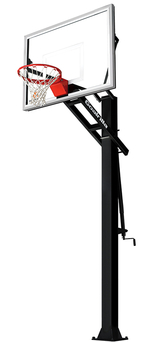 GS54C
MSRP $1,699.95 - Our Price $1,599.95!
The GS54c is the most compact in the Goalrilla line. It's a tough, driveway-worthy in-ground basketball system from top to bottom, through and through. Plus, with the GS54c you get superior visibility and consistent rebounding across the entire glass. The GS54c features a proven design inspired by earlier Goalrilla systems. As this basketball goal proves, it takes more to be a Goalrilla, from tempered glass backboard to a one-piece steel pole.
Adjustable height in-ground basketball hoop offering a limited lifetime warranty

5x5 Pole Size

3/8" Thick Tempered Glass Backboard

2.5' Overhang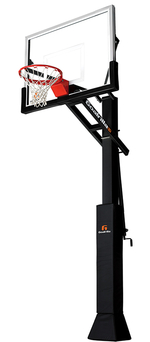 CV54
MSRP $2,399.95 - Our Price $2,299.95!
The Goalrilla CV54 uses welded, ultra-wide span arms and a welded steel board frame to create an unobstructed, clear view and consistent rebound across the glass. Built Goalrilla tough, the CV54 is capable of handling over 1000 lbs. of vertical torque to the rim. Rugged steel is used throughout our basketball hoops, providing the uncompromising strength of a Goalrilla. To protect this steel, our hoops are covered in powder-coating for ultimate rust and UV protection, maintaining the performance and look of the basketball goal.
54" x 38" Clear View tempered glass backboard delivers pro-style look and rebound performance

5x5 Pole Size

3/8" Thick Tempered Glass Backboard

3' Overhang
Clear View Technology eliminates the board arms that attach to the center of the backboard, allowing for a clear, unobstructed view through the glass. Clear View board arms connect to the outer edges of the backboard, creating the same look of arena-style basketball hoops and delivering consistent rebound across the entire board.