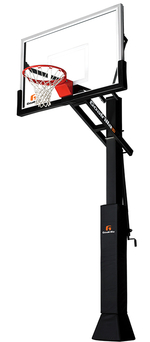 CV60
MSRP $2,699.95 - Our Price $2,599.95!
The Goalrilla CV60 uses welded, ultra-wide span arms and a welded steel board frame to create an unobstructed, clear view and consistent rebound across the glass (a proven design inspired by by earlier Goalrilla basketball systems). Plus, the CV60 is capable of handling over 1000 lbs. of vertical torque to the rim. That makes it one of the Goalrilla basketball goals that are built to take on anything the suburbs can throw at it. It's pure Goalrilla through and through. Rugged steel is used throughout our basketball hoops, providing the uncompromising strength of a Goalrilla. To protect this steel, our hoops are covered in powder-coating for ultimate rust and UV protection, maintaining the performance and look of the basketball goal.
60" x 38" Clear View tempered glass backboard delivers pro-style look and rebound performance

11 gauge steel post

6x6 Pole Size

3/8" Thick Tempered Glass Backboard

3' Overhang
Clear View Technology eliminates the board arms that attach to the center of the backboard, allowing for a clear, unobstructed view through the glass. Clear View board arms connect to the outer edges of the backboard, creating the same look of arena-style basketball hoops and delivering consistent rebound across the entire board.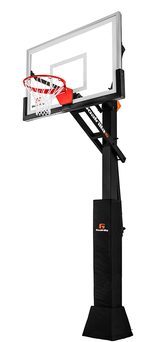 CV60S
MSRP $3,099.95 - Our Price $2,999.95!
The NEW Goalrilla CV basketball goal with STBLZR Technology is redefining performance for residential hoops. Available in both 60" and 72" backboard sizes, STBLZR Technology significantly reduces the "shake" of a basketball goal after a dunk or rebound and completely stabilizes the backboard of the goal at regulation height. After a shock to the goal, some units will violently shake for up to a minute before coming to a rest. STBLZR Technology returns the hoop to its static, resting position quickly, allowing players to maximize practice time and stay focused on skill development.
Revolutionary technology that significantly reduces the shake of a basketball goal

11 gauge steel pole

6x6 Pole Size

3/8" Thick Tempered Glass Backboard

3' Overhang
Utilizing the same technology used to eliminate movement in skyscrapers during earthquakes, STBLZR Technology creates a dramatic improvement in goal stability. The Goalrilla CV with STBLZR Technology simulates the performance of arena-style, pro-level goals, delivering the gym experience in your driveway.